1…2…3… and you have a camper
Our new miniB box – ready for takeoff.
miniB fully equips you for your next outdoor adventure, while fitting snugly into an air-travel-ready suitcase. miniB lets you take your camper with you anywhere in the world. When it comes to camping & #vanlife, they say that "Home is where you park it," with miniB we say "take it with you! miniB will go where most campers wouldn't dare"
Our tried and tested classic model 123camp – classicBOX – in the winter scenery of Kaszuby (Poland).
It does require some imagination to move from such beautiful winter weather to your own car, which you can park in a different beautiful and sunny corner every weekend, without reservation, without waiting, being as close to nature as possible. Then it will be without snow and much warmer – because the only thing that 123camp.eu cannot provide in the set is the weather:)))
See up close the quality of details in the classicBOX
Digital control of the machines producing the elements, combined with old craftsmanship, creates a piece of furniture that is pleasant to the touch… Natural oak elements and a wicker basket with a picnic set – everything fits together perfectly.
Technical video and features of classicBOX
Our box is probably the first non-invasive camper van conversion for regular cars that also has the ability to transform into a dining room and living room with a double sofa bed :))) See how it works in the above video.
Our first video featuring classicBOX and the Pagan Mountain Ślęża in the background.
This is the first video we have prepared for you.
FREEDOM FOR BOXES "changing car into camper in 3 minutes" for almost any station wagon, SUV, VAN. We hope you would have as much fun using your boxes every day, as we did filming in the winter aura and in a car that was older than the actors ; )
See the classicBOX camper box from every angle – "old film"
Someone asked us to show the camper box in a 360-degree rotation – so we had another good time building a turntable and generating movement with an "animation" string.
– Enjoy watching.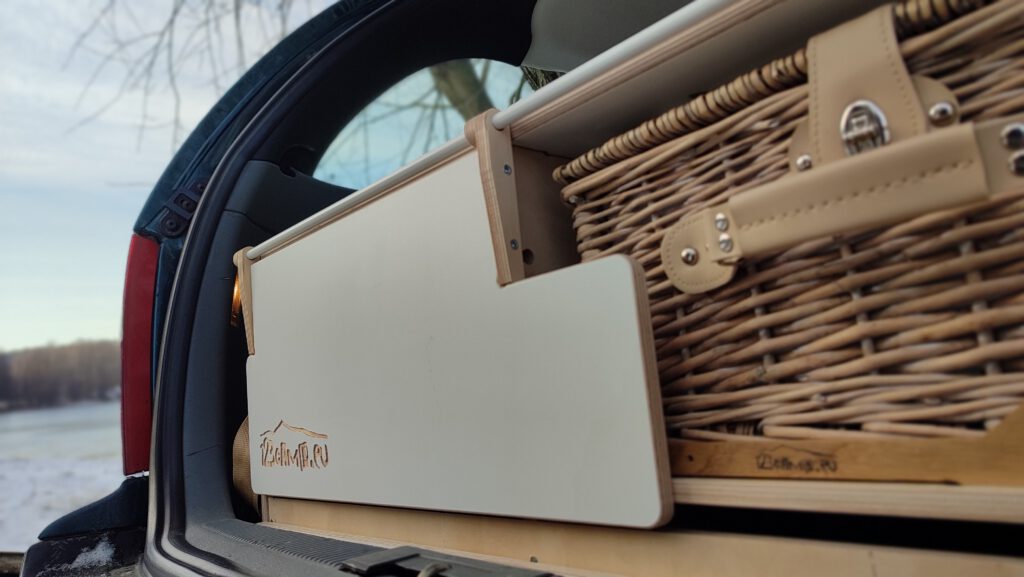 ClassicBOX combines classic design with natural materials.
Once assembled, it looks modest and elegant while holding all the essentials for your camping trip.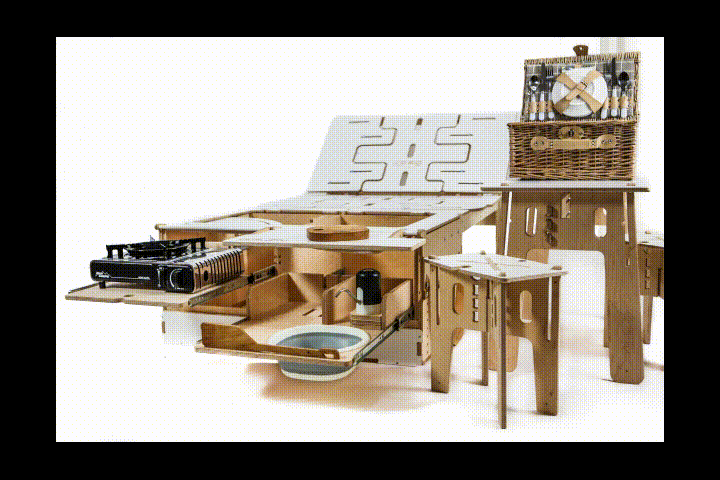 Multi-functional elements transform ClassicBox
From the beginning, we tried to ensure that each element had more than one use. Thanks to this, you can easily turn the mattress base into a sofa and table. The table top has a dish and glass rack, and more…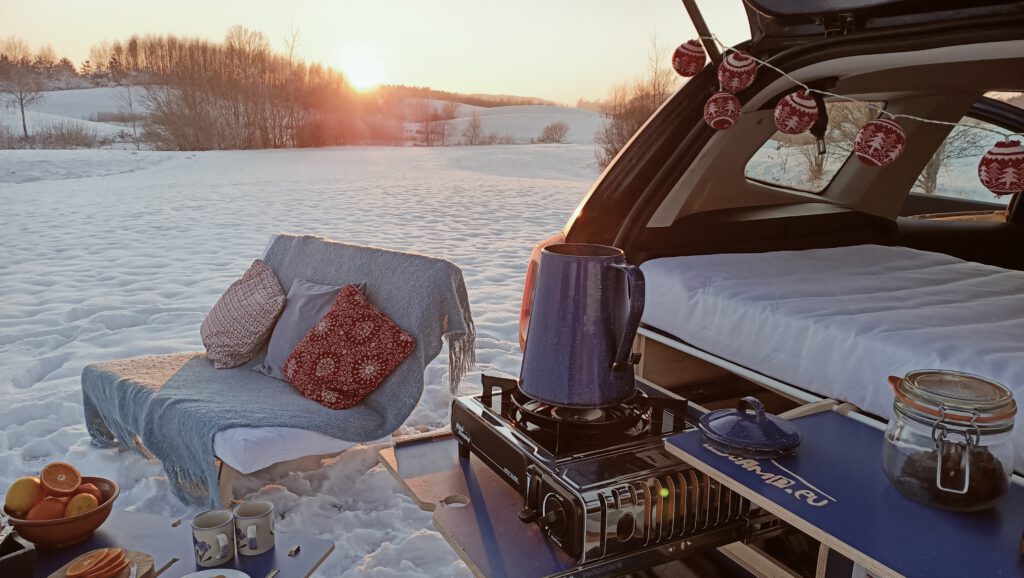 M4 – is a symbol and description of apartment
The M4 mobile from 123camp.eu offers:
A bedroom for two – with a comfortable foam mattress, in covers that can be removed and washed after the adventure
A kitchen – equipped with everything minimalists need
A bathroom – for minimalists, but soon we will provide a link to useful outdoor showers
A living room – with a comfortable sofa, adjustable backrest, and a nice little table next to it for a cup of coffee…
A dining area – that takes up no space while driving, can be set up in a "click" and allows for comfortable dining in nature.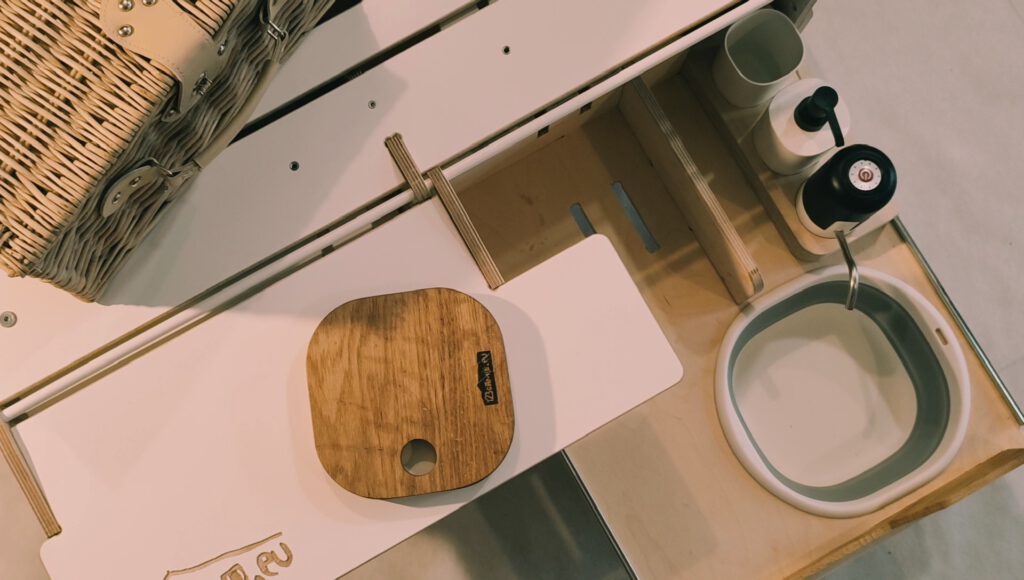 And everything fits so well together…
The foldable sink basin perfectly covers the natural oak cutting board, oiled for durability. The sink folds and comes out of the drawer…
… behind the sink, there's an eco-liquid dispenser and a cup for toothbrushes, perfectly fitted, and three additional positions for the divider separating the larger from the smaller section… The faucet delivers water from a certified 10-liter tank and can also be turned to make space for a picnic basket with a "fridge" thermal bag…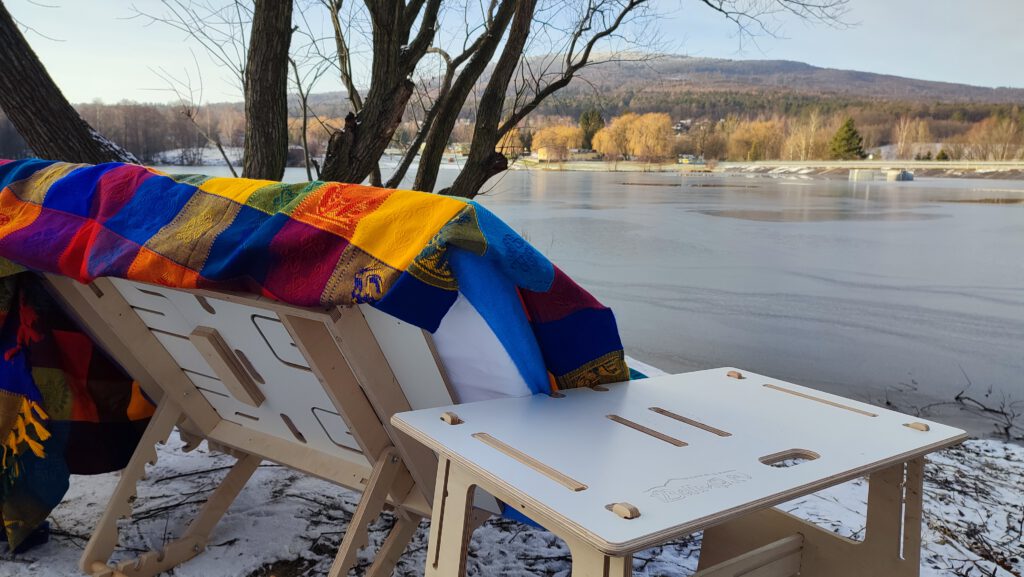 Sofa with the best view – where will you place it?
We also wondered why no one has done it yet ??? it's obvious that on 1,2,3… and the sofa should appear in the most beautiful living room "the world is mine".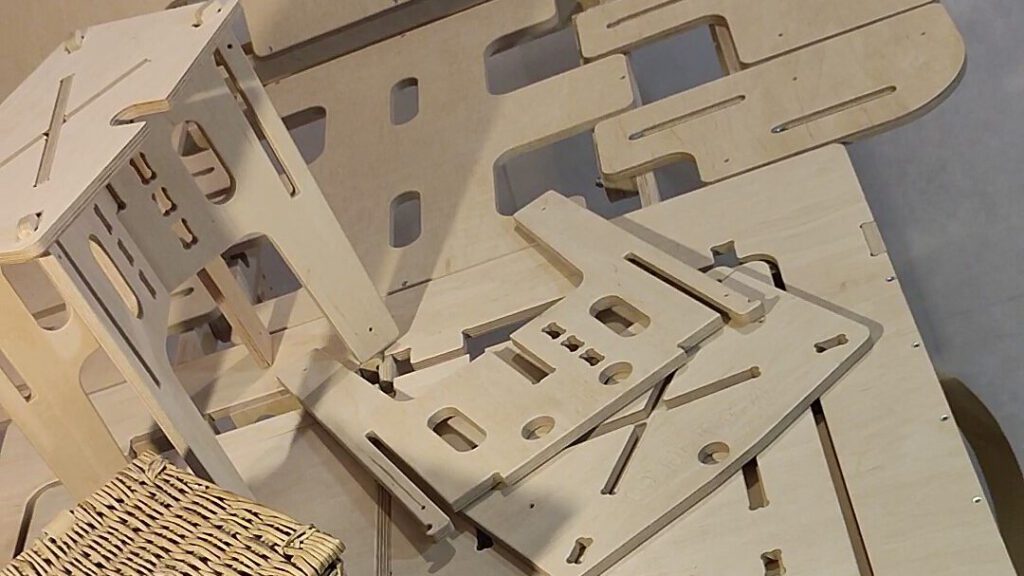 GoGoła version of ClassicBOX – DIY color?
If you want, prefer, or like it – the "naked" natural birch plywood will be subject to your painting visions – as you wish… while still being a moisture-resistant material that is not afraid of even real rain.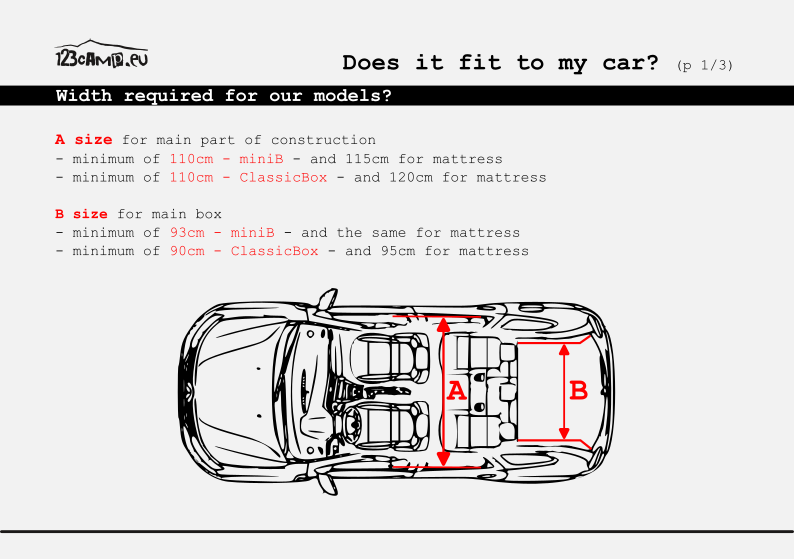 Minimum width of the car's boot space
Size A – Width under the main mattress:
minimum of 110cm for the miniB – and a mattress width of 115cm
minimum of 110cm for the ClassicBox – and a mattress width of 120cm
Size B – Minimum width between the wheel arches:
minimum of 93cm for the miniB
minimum of 90cm for the ClassicBox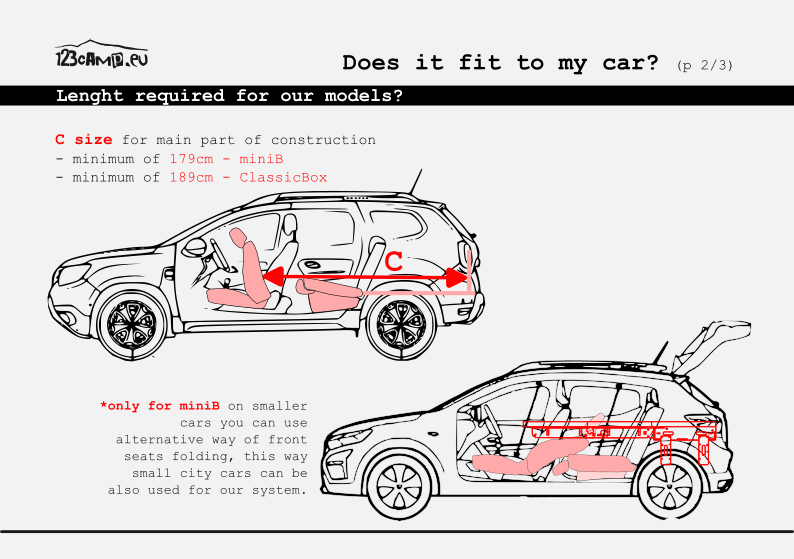 Minimum length of the car's boot space
Size C – Length for the structure under the mattress:
minimum of 179cm for the miniB – and 180-192cm for the mattress
minimum of 189cm for the ClassicBox – and 190cm for the mattress
* Only in the case of the miniB, it is possible to place the platform over the front seats in small city cars
products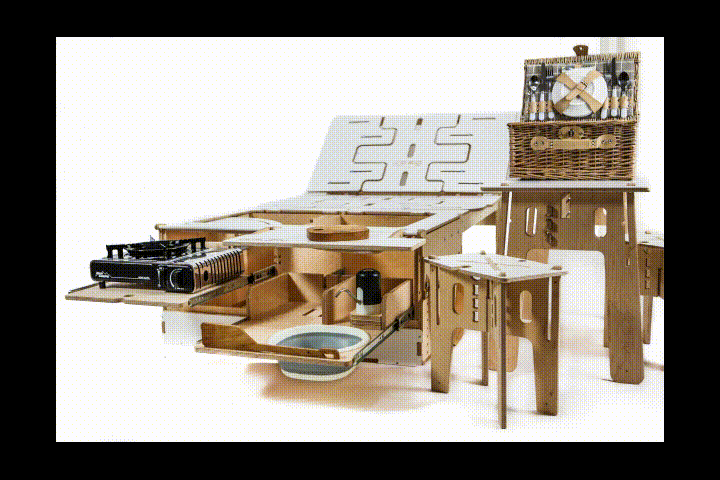 This is the classic version of our box with an installed kitchen, water battery, foldable sink, and a matching picnic basket. Of course, a comfortable bed for two, a table and chairs that do not take up space, and the legendary "view" sofa are included. This set is delivered on a pallet measuring 80x120x80cm and weighing approximately 75kg.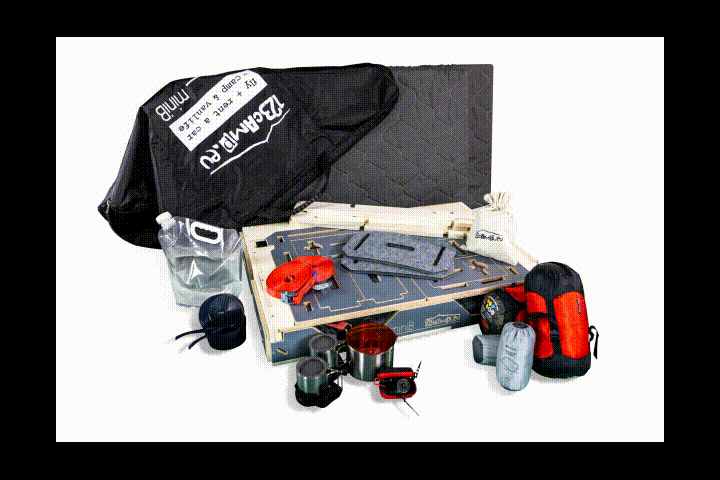 miniB is a revolution in camper van conversion kits!!!
We managed to fit a bed, outdoor table and chairs, a two-person sofa, and even a pull-out cooking surface into a sturdy travel bag that you can carry as regular luggage on a plane!!!
Rent a car in a remote destination, and after a few minutes, your hotel on wheels will be ready for adventures in places inaccessible to other vanlife enthusiasts!!!
The entire kit is shipped in a travel bag and cardboard box measuring 111x66x25cm and weighing 29kg (44x26x10inch and 64 lbs)
For those who wouldn't mind some comfort at festivals…
For you, the person who loves festivals but has had enough of wet and cold nights in a tent. The person who has sometimes thought, that a comfortable chair and a sofa for a nap would be "cool".
For those on the move
For you, the person who competes in mountain, valley, or seaside running races, or any other athlete who cycles, rows, or plays sports like bridge not just in the forest or by the lake, and wants to have YOUR HOTEL just 30m from the start/finish.
For those who catch and release more often…
For you, the person who enjoys fishing and prefers to catch and release, then cook up something delicious and vegetarian, while breathing in the fresh air and enjoying the great outdoors.
For those who want to be close after the concert…
For you, the person who travels to different cities every two weeks to see that long-awaited concert and wants to have your own apartment just a 10-minute walk from the performing artist.
for those who can do everything themselves but…
For you, the person who can do everything, who was born with a hammer in their hand, who can do it better and whose uncle has a jigsaw… but just doesn't have a free month to tinker.
For seekers and those who have already found
For you, the person who runs day and night with a metal detector or without, searching for treasures from the Ming Dynasty or other Bonaparte, and who wants to be alone with the found miracle.
For those who don't like dust
For you, the person who is always in a hurry, bathed in hot water and dislikes twisting, sawing, sanding a million boards just to then fix it again, reduce, enlarge, rotate, and measure again.
For you,

the person who wants to be spontaneous, without a hotel, without a reservation, here and there as long as there is a great view – for those who like it just like us : )

Proszę obrócić urządzenie