products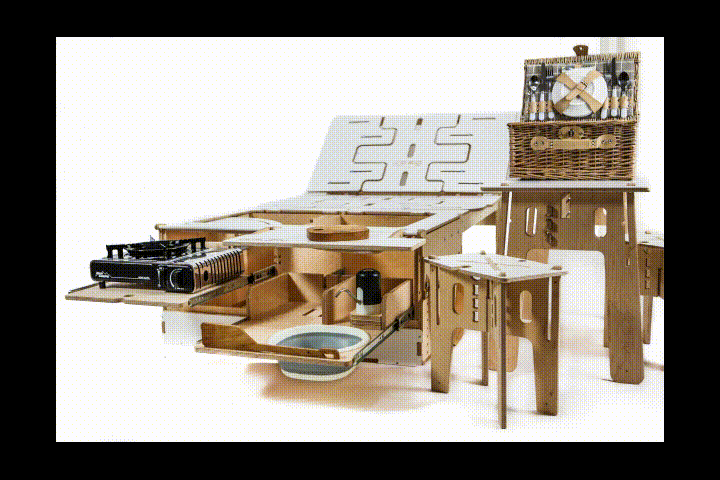 This is the classic version of our box with an installed kitchen, water battery, foldable sink, and a matching picnic basket. Of course, a comfortable bed for two, a table and chairs that do not take up space, and the legendary "view" sofa are included. This set is delivered on a pallet measuring 80x120x80cm and weighing approximately 75kg.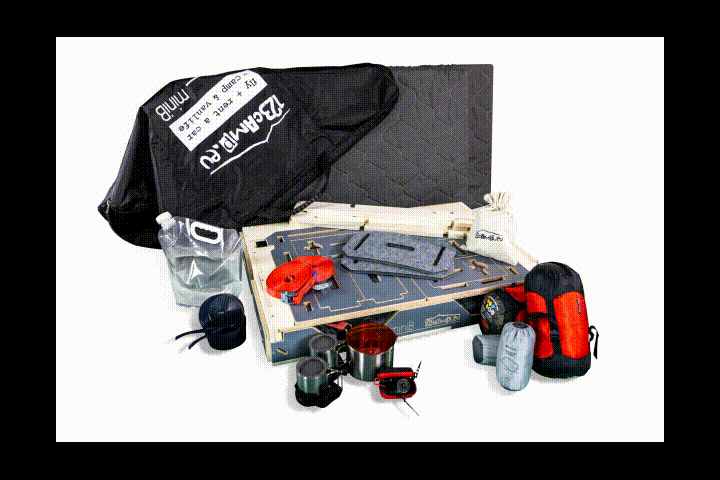 miniB is a revolution in camper van conversion kits!!!
We managed to fit a bed, outdoor table and chairs, a two-person sofa, and even a pull-out cooking surface into a sturdy travel bag that you can carry as regular luggage on a plane!!!
Rent a car in a remote destination, and after a few minutes, your hotel on wheels will be ready for adventures in places inaccessible to other vanlife enthusiasts!!!
The entire kit is shipped in a travel bag and cardboard box measuring 111x66x25cm and weighing 29kg (44x26x10inch and 64 lbs)
For those who wouldn't mind some comfort at festivals…
For you, the person who loves festivals but has had enough of wet and cold nights in a tent. The person who has sometimes thought, that a comfortable chair and a sofa for a nap would be "cool".
For those on the move
For you, the person who competes in mountain, valley, or seaside running races, or any other athlete who cycles, rows, or plays sports like bridge not just in the forest or by the lake, and wants to have YOUR HOTEL just 30m from the start/finish.
For those who catch and release more often…
For you, the person who enjoys fishing and prefers to catch and release, then cook up something delicious and vegetarian, while breathing in the fresh air and enjoying the great outdoors.
For those who want to be close after the concert…
For you, the person who travels to different cities every two weeks to see that long-awaited concert and wants to have your own apartment just a 10-minute walk from the performing artist.
for those who can do everything themselves but…
For you, the person who can do everything, who was born with a hammer in their hand, who can do it better and whose uncle has a jigsaw… but just doesn't have a free month to tinker.
For seekers and those who have already found
For you, the person who runs day and night with a metal detector or without, searching for treasures from the Ming Dynasty or other Bonaparte, and who wants to be alone with the found miracle.
For those who don't like dust
For you, the person who is always in a hurry, bathed in hot water and dislikes twisting, sawing, sanding a million boards just to then fix it again, reduce, enlarge, rotate, and measure again.
For you,

the person who wants to be spontaneous, without a hotel, without a reservation, here and there as long as there is a great view – for those who like it just like us : )